Ghana implemented a new regulation in 2018. And it states that all shipments to Ghana are obliged to be accompanied by a CTN certificate. With this new regulation, any shipment arriving at a port of Ghana without this certificate will face severe consequences and a penalty. It is mandatory for both Tema and Takoradi ports. If your shipment's final destination isn't Ghana, not having this certificate won't cause any problems. Click here to find out more on transit shipments.
Despite being mandatory and crucial for the process, ECTN is one of the most overlooked certificates.
What is Ghana CTN?
CTN stands for Cargo Tracking Note, and the name explains a lot about itself. It is a certificate that gives authorities the ability and the information to track, manage, and supervise the shipments from loading to discharge. Also, it gives them details about the cargo even before it's arrival. It contains detailed information about the shipment, like details about the exporter, the importer, the goods getting transported, etc.
What are the required documents?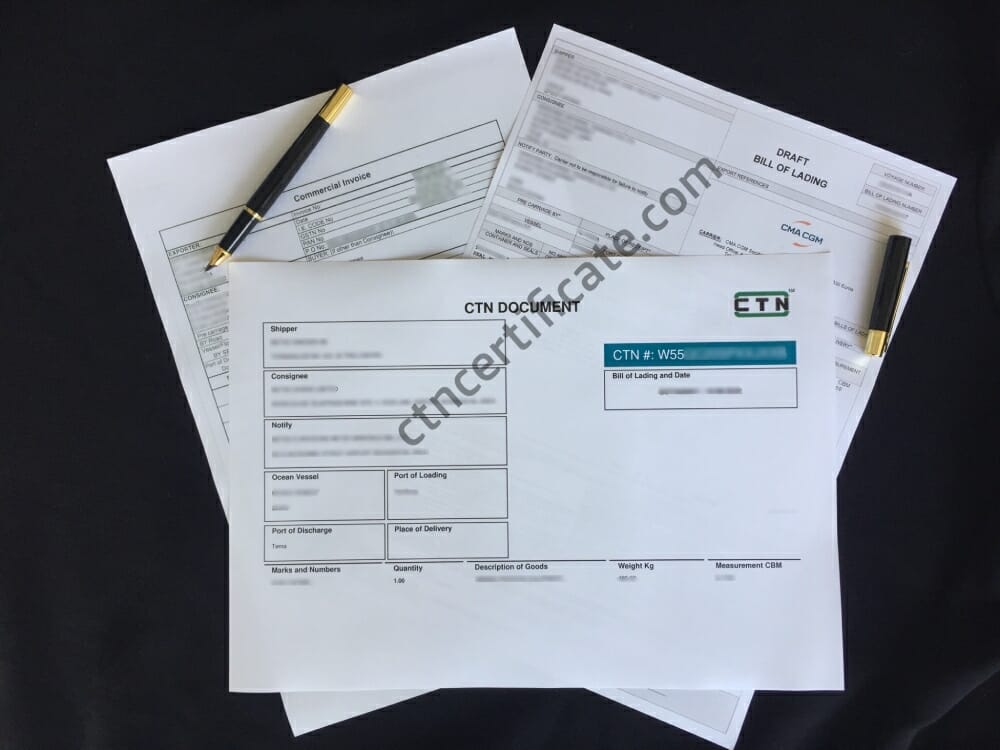 Bill of Lading: It contains details about the exporter, the importer, the weight of the goods, the shipping line, the vessel name, etc.
Commercial Invoice: It includes details of the goods, the freight cost, the incoterm, and some other charges if there is any, etc.
Freight Invoice: This is only a required document if the freight cost isn't on the commercial invoice.
Export Customs Declaration: This is a document that is prepared by the customs officials of the exporter country and lists the goods getting transported and has a detailed description of them.
Packing List: This document contains all the details of the goods, especially the total weight.
What are the consequences of not having a CTN certificate?
CTN certificate must be validated five days before the vessel's arrival at the latest. If not, you will be facing a fee twice the amount of the certificate's cost plus a regulation charge determined by the Ghana Customs Officials.
Pricing
Certificate cost depends on the number of Bill of Ladings and the containers, the country of origin, the port of discharge, etc. This is why we can't give you an exact price for the CTN. But if you share your shipment's details with us we can provide you the best charges for your certificate. We offer free quotation.