Niger authorities implemented a new regulation, making all shipments to Niger obliged to have a BSC certificate in 2008. Arriving at the destination without this certificate will cause serious problems, like a huge fine. Since Niger is a landlocked country, all maritime cargoes are transited from Benin. So, you will need a BSC certificate for Niger, and a BSC for Benin as well. Click here to find out more on transit shipments.
Some might think that no one would ever miss out on something as crucial as this certificate. That is not true at all. People overlook this certification way more often than you'd think.
What is Niger BSC?
BSC stands for Bordereau de Suivi des Cargaisons, which is French for Cargo Tracking Note or CTN. CTN's name speaks for itself. Because its purpose is giving the authorities the ability to track, manage, and supervise the shipments from loading to discharge. And, it allows them to have information about the shipments before they arrive at the destination port. BSC certificate gives details about the exporter, the importer, information about the goods getting transported and their value, the cost of the freight, the type of shipment, the name of the vessel, etc.
What are the required documents?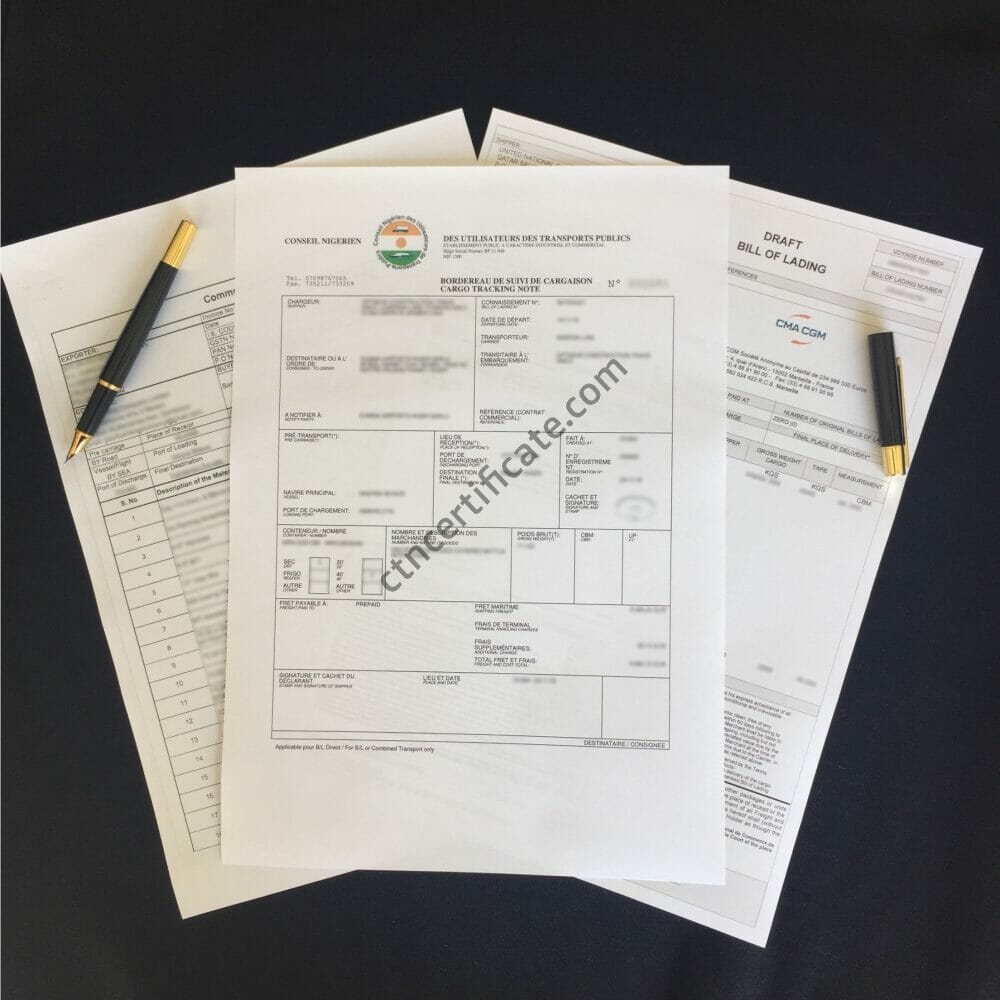 All you need is 2-3 documents to apply for the ECTN certificate, and you can find them in the following:
Bill of Lading: This is a document that includes details about the exporter, the importer, the weight of the goods, the shipping line, the vessel name, etc.
Commercial Invoice: It contains details of the goods, the freight cost, the incoterm, and some other charges if there is any, etc.
Freight Invoice: This document is only necessary if the freight cost isn't on the commercial invoice.
What are the consequences of not having it?
You must have the BSC certificate five days before the vessel arrives at the latest, or the consequences won't be pretty. If your shipment arrives without a BSC certificate, there will be a charge twice the amount of the BSC cost plus the regulation fee determined by the Niger National Port Officials.
Pricing
Certificate cost depends on the number of Bill of Ladings and the containers, the country of origin, the port of discharge, etc. This is why we can't give you an exact price for the CTN. But if you share your shipment's details with us we can provide you the best charges for your certificate. We offer free quotation.