In 2011, Guinea Bissau authorities implemented a new regulation. This regulation made the CEE certificate mandatory for all sea cargo coming to Guinea Bissau. If a shipment arrives without one, they'll be facing severe consequences and enormous amounts of penalty fees. But if you are using Guinea Bissau for transit purposes, in some cases, a CEE certificate might not be necessary. The CEE is mandatory for all ports such as Port of Bissau.
Although it is a mandatory and crucial certificate, most people overlook and miss this certificate way more often than it should be.
What is Guinea Bissau CEE?
CEE stands for Certificado Eletronico De Embarque. It is the same document as the ECTN certificate that means Electronic Cargo Tracking Note, and its name explains a lot. Because it allows the authorities to track, manage, and supervise all cargos from loading to discharge. It also gives them the necessary information before the shipments arrive at the destination. It contains information about the exporter, the importer, information about the goods getting transported and their value, the cost of the freight, the type of shipment, the name of the vessel, etc.
What are the required documents?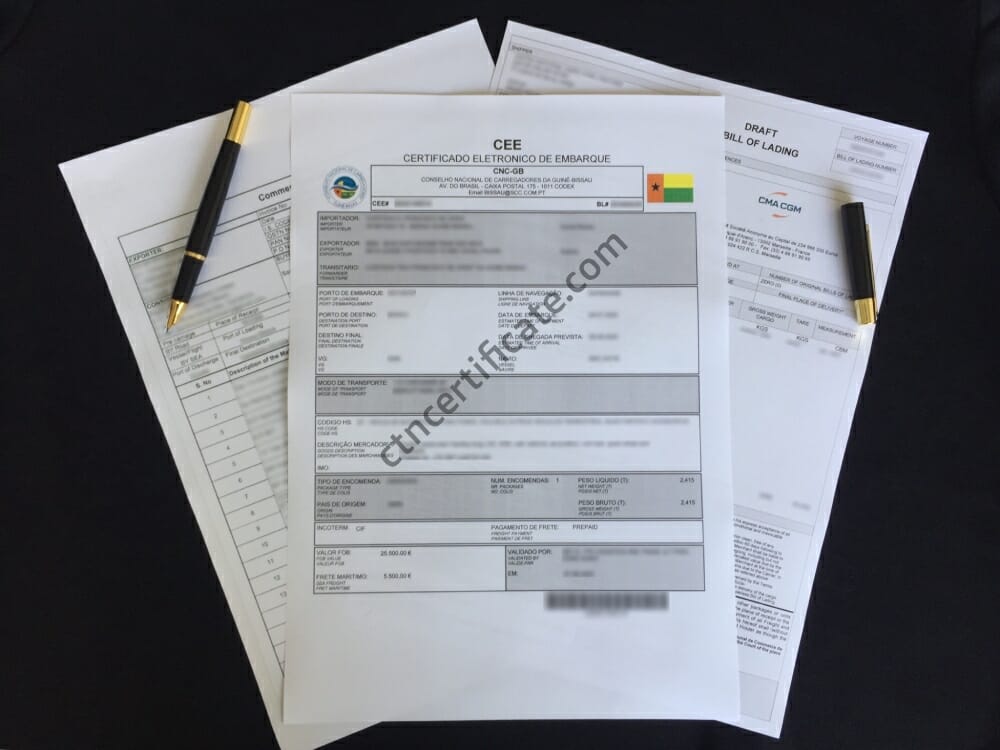 Bill of Lading:

It contains details about the exporter, the importer, the weight of the goods, the shipping line, the vessel name, etc.

Commercial Invoice:

It includes the details of the goods, the freight cost, the incoterm, and some other charges if there is any, etc.

Freight Invoice:

This is only a required document if the freight cost is not on the commercial invoice.

Export Customs Declaration:

Customs Officials of the exporter country prepares this document, and it lists the goods being transported and contains some important details of them.

Tax Payers ID Number:

The importer must provide it. It is also known as the NIF Number.
What are the consequences of not having it?
The CEE must be validated five days before the vessel arrives at the latest. If you don't meet these requirements, there will be a cost twice the amount of the CEE cost plus the regulation charges determined by the Guinea Bissau National Port Officials.
Pricing
Certificate cost depends on the number of Bill of Ladings and the containers, the country of origin, the port of discharge, etc. This is why we can't give you an exact price for the CTN. But if you share your shipment's details with us we can provide you the best charges for your certificate. We offer free quotation.